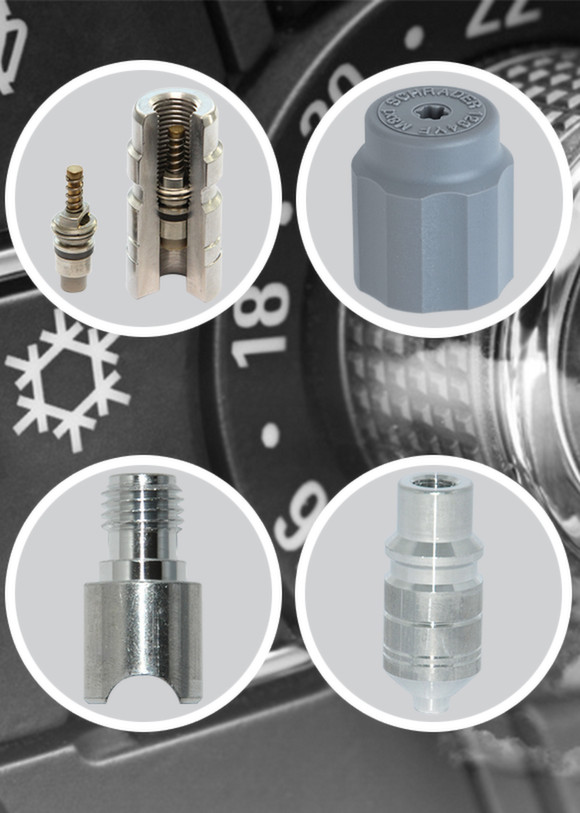 Schrader Advanced Valves offers a complete range of air conditioning filling valves for the following gases: R134a, R1234yf or R744, commonly referred to as CO2 gas. Schrader Advanced Valves is the only approved valve manufacturer for the new R744 gas.
For high- and low-pressure air conditioning systems, the filling ports are available with high- and low-pressure valves.
Schrader Advanced Valves also completes its range with pressure sensor valves.
Composition of a Schrader Advanced Valves air conditioning valve
Since filling valves are usually welded to aluminium air conditioning systems, Schrader Advanced Valves delivers the following components separately :
the high- and low-pressure valve stems;

the valve core;

the sealing cap.
The valve stems fully comply with the SAE J639 standard, and Schrader Advanced Valves offers all types of attachments used for welding on aluminium systems. The filling valves can thus be divided into different categories depending on the form of their stem :
In order to guarantee high quality, all of the valve stems are 100% inspected by camera and all of the cores are 100% controlled for sealing.
A Schrader Advanced Valves valve core combined with a Schrader Advanced Valves valve stem guarantees the best results in terms of permeability, a decisive criterion for the efficiency of air conditioning systems.
Schrader Advanced Valves air conditioning experts design, test and validate the filling valves in accordance with all manufacturer specifications. For any questions, please contact us via the link below.