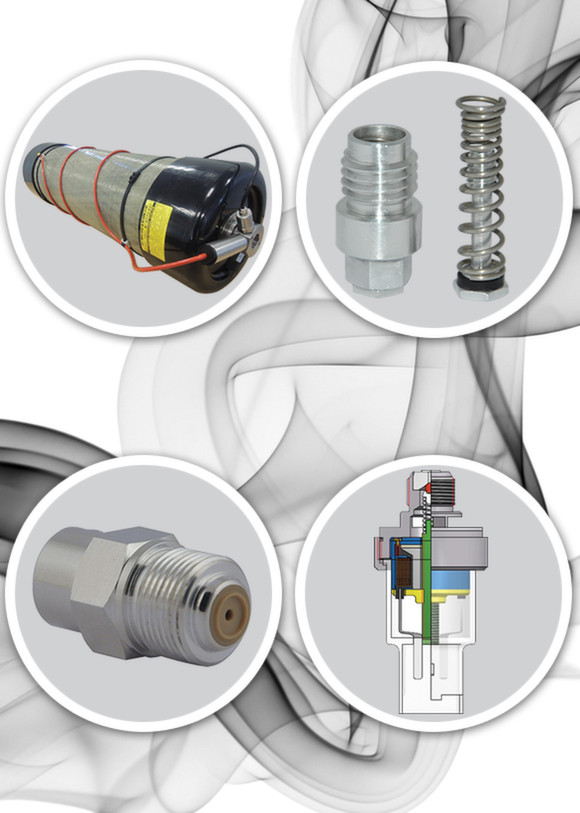 Schrader Advanced Valves offers protection technologies for tanks or pressurized circuits
P

ressure Relief Valves (PRV) to protect against overpressure in a circuit or a tank.

The proposed opening and closing pressures vary according to customer requirements and are systematically 100% controlled on the production line.

As the PRVs can support several opening and closing cycles, they are reusable and also totally resistant to fatigue, contrary to a bursting disc technology.

We can offer total or partial degassing of the circuit depending on requirements.

The applications can be diverse, for example :

protection of a high-pressure petrol engine;

high- and medium-pressure protection of air conditioning circuits, and notably circuits filled with R744 gas (CO2).
A

ctive Magnetic Pressure Relief Valve for protection in the event of overpressure and for degassing a circuit on request.

Thanks to this innovative magnetic suction technology, the valve can be electrically activated to discharge a circuit (a current of 3A for less than 50 ms is sufficient).

This robust technology consumes little electricity.

The design is totally resistant to pressure and temperature fatigue.

Opening pressures and sealing functionalities are 100% controlled on the production line.
T

hermal and Pressure Relief Device (TPRD) to protect gas storage in a tank in the event of fire (the thermal and pressure safety functions can be combined or not).

The TPRD is mounted on the head of the tank and a fuse tube follows the zone to be protected.

The tube is filled with a slightly pressurized liquid and, in the event of fire, the tube melts, releases the liquid and triggers the TPRD integrated into the head. The degassing of the reservoir thus takes place and can be directed in a precise area.

Thanks to this technology, a single TPRD is sufficient to ensure the protection of a large area.

The most common applications include:

protection of natural gas tanks;

protection of hydrogen tanks.
For further information on these technologies, Contact us
Schrader Advanced Valves develops and manufactures custom pressure regulators
Schrader Advanced Valves boasts several regulator technologies: membrane, piston and bellows.
Schrader Advanced Valves has developed an innovative technology using a new type of cylindrical conical spring. This spring allows dual guiding of the piston without any additional component, thereby optimizing the analysis of the value of the regulator.
In addition, this spring allows higher flow through the regulator and ensures the correct behaviour of the piston.
Schrader Advanced Valves is able to adapt the design to different specifications in terms of pressure and flow.